Hello, my peeps! (Yes, I mean the marshmallow snacks.)
What a week it's been. A very, very hot Christmas passed here in Perú, and I am filled up to my nose with panetoné. What's panetoné you ask? It's fruitcake. Peruvian Fruitcake.

So, here's a brief run-through of this week. (I say brief only in the sense that it isn't a second-by-second thing, y'know?)
This past Monday was P-day, so that was pretty alright. We emailed our families like normal. (See below). After this, we had plans to visit with one of Elder Salazar's old investigators who had been hospitalized, so we spent the majority of the day in buses. And the best part is, when we got there, the man wasn't there . . . Anyway, after that adventure, we got to the house of one of the members and did our Skype calls!! Woohoo!!! That's about all that happened on Monday.
Tuesday!!! So, it was our district meeting like normal on Tuesday. However, afterward, we had a little "gift exchange" in our zone. All of us got something for another Elder (or Sister) in the Zone, and we traded them. The rule was it had to be under about 5 dollars. Entonces, I got a pretty sweet hat. It had a cool arrow design on it.

After that, no pasa nada. Every house we went to (because it was Christmas Eve) were always gone, or too busy. We did get an entire panetoné, though. (Ugh) Anyway, at seven we went to the house of my Convert Mary Luz for dinner. We had Turkey, and rice, and potatoes. After that we went home.
...but that's not all. At about 12:30 at night, everyone in Peru lights off fireworks. I have never seen so many fireworks in my life. After that, we went to bed again.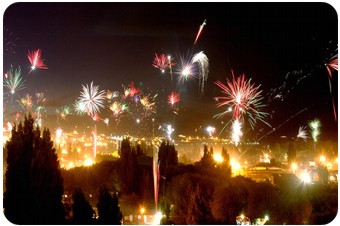 Christmas!!! In the morning on Wednesday, we opened the presents that we'd received. It was fun, I got some cool stuff! (Thanks, Fam!!) So at about 1, we went to one of our neighbor's houses, and had lunch. Which was turkey, with rice, and potatoes, again. After lunch, we tried working again, but it was Christmas. No one received us. So, we went to Mary Luz's again and had dinner there. Elder Salazar called the other side of his family (because his parents are separated, he got to call twice. :/ ) And we watched the Testaments while he made his call. That's about it for that day.

On Thursday, it was a pretty normal day, other than no one wanted to talk to us. The best part of the day however, was that we had English Class in the Chapel. There were about five people there, and it was actually pretty fun. It's funny, because the sister missionaries in our ward were supposed to be giving the lesson, but they didn't want to teach, so Elder Salazar and I ended up giving it for them.
On Friday, nothing happened. Saturday, Tampoco. It really was just a normal day.
On Sunday however, there was one thing in particular that made it different, (besides church). We had our first real Mision correlation meeting (Is that right? I have no idea what it is in English).
Well, that about covers my week. I do have to say though, This Christmas was pretty rough, however, it wasn't too bad, just... different, that's all. It's hard passing the holidays without your family, y'know? I do feel a lot better about everything though, so no need to worry. :D
Thank you all for all your support! I pray for all of you, especially you. (Yes, you.) Thank you for your emails, and for your prayers! I know the Lord will bless all of you!
With lots of love (and dirt),
-Elder Dañel Jacob Smith
Here's Daniel's message from last week:
It's been a pretty interesting week for me. This past Thursday we had a little party with several of the zones and our mission president. All of the zones performed little sketches that they had prepared, we got little gifts from the mission president, which consisted of a little card that had all the names of the missionaries with pictures, a little letter from the first presidency, (It was the same for all of the missionaries) and a new journal. After that we went to a buffet to have lunch. After that we went to a park called La Parque de Las Aquas, which had a whole ton of fountains, and there was a little light show, kind of like the world of colors at Disneyland, but not nearly as cool. After that we went home, so that was a fun day. :)
We also did our last choir performances this Saturday and Sunday. It was fun while it lasted, but sadly it's over now. Maybe there'll be another one next year. :P
Because we've been doing so much stuff this week, our numbers are a little low. However, the numbers are always lower at Christmas time, because no one wants to take time out of their holiday to listen to the missionaries, so that's something.
I love you all! Have a fantastic Christmas!!
-Elder Dañel Jacob Smith